Homepage
HOn3 Wharf Layout
New Wharf module
General Store
Old N Layout Pics

How-to's(soon)
Railroad Library

Railroad Sounds:
Just place your mouse over the trains for sounds, no need to click(IE users Only)

OUR CLUB
NCNG
LAYOUTS AND MORE
NMRA Old School
Zane's Piermont WOW
WT&W WOW

TECHNIQUES & RESOURCES
Dan's Depot Anime Gifs
Fantasonics Best sound
N&PC Barmills is inspiration


Member website of the
Sheberclan
Welcome to the KD&VJ Wharf pages
As of June 1st, we have built up the frame work, built all the land mass, established the waterfront and laid down the roadbed. Also we have started on a few structures including the older Campbell's Wharf that I picked up at the local GATS show in Marin.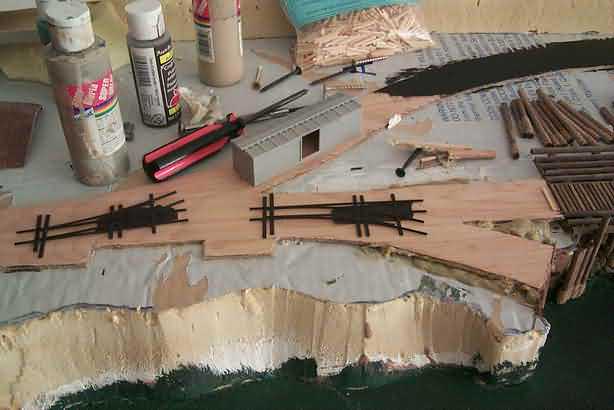 Here we needed a custom sized shop for this spot so I used the inspiration of the WT&W to build a cannery designed from scratch. It will be aptly named after my good friend and fellow KD&VJ build Rich, who hates fish by the way.
Thanks to all and More to come in the near future as I am on a building spree and an Ebay spree to sell all my Old N Scale stock.